They handled my car accident case quickly and professionally. The paralegal, Alyssa, in particular was always responsive and very helpful. Highly recommend this firm.
- Catherine Sanders
The team at David Aylor is extremely professional. They went out of their way to insure I was in good hands and that they would do everything in their power to achieve the desired outcome in my case. I would definitely recommend their services to anyone in need.
- Hunter Hartman
I want to personally thank the Aylor Law Firm for helping me with my appeal to get my job back. Calvin was the attorney helping me and he did a great job very professional and was supportive of me and my family. Thank you again and shout out to the Aylor Law Firm.
- Rome Simmons Jr
I appreciate the David Aylor Law Firm in my case, They was truly helpful and was there to walk with me through the process. My attorney Deon was hands on and provided thorough information along the way. Forever a Client!
- Shaunna Denise
Everyone I Have Dealt With In David's Office Has Been Beyond Welcoming As Well As Extremely Professional. The Attorneys Of The Office Were All Willing To Speak With Me On Whatever Issue I Was Having And Help Me Reach A Solution As Best They Could. Good People All Around.
- Dierdre K.
His Friendly Office Staff Made Sure To Make Me Feel Comfortable And Kept Me Informed Throughout My Process. I Would Recommend Mr. Aylor To Anyone That Needs Quick And Precise Representation.
- Katie B.
What I Really Like The Most Was How They Kept Me Informed At Every Step/Progress On My Case.
- Wila
Really Passionate And Assertive Staff! I Felt Like They Had My Best Interests At Heart. Hard To Find This Kind Of Top Notch Quality.
- Brandi K.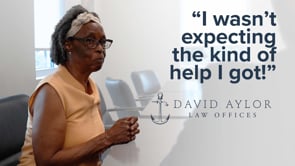 Video
Harriet - Testimonial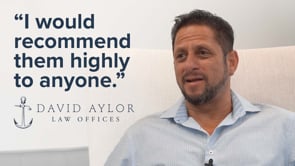 Video
Ralph - Testimonial